Today we talked more about Indigenous Religions and the common thread of Taboos and suchlike forbidden things. Including the menstruation period.
I AM NOW GOING TO TALK ABOUT MENSTRUATION IN GENERAL AND ALSO MENTION MY OWN AND I AM NOT CUTTING IT BECAUSE THIS IS AMAZING AND YOU SHOULD JUST MOVE ALONG IF YOU THINK YOU'LL GET SQUICKED, BUT REALLY THIS IS A REALLY COOL INSIGHT AND YOU SHOULD READ ABOUT IT.
So menstruation. In indigenous cultures, as well as in tons of religious and secular cultures, the period of a woman's menstruation makes her taboo. Frequently, as in the Abrahamic religions, it's forbidden to have intercourse with a woman during menstruation. Plenty of indigenous religions have their women completely segregated during their period. In secular culture, we view menstruation as just generally gross-- as a society, we don't talk about it, it's gross and yucky and gross; as women, we dread it, we do out best to avoid it, we bitch about it, and, ok, yes, it's pretty shitty. I'm on my period right now and it is terrible. I'm cramping like hell, my clothes don't fit right, I'm tired, I'm constantly worried about ruining clothes and underwear, I'm spending a considerable amount on pads, I have to change said pads constantly, and those of you with functioning uteri know how unpleasant it feels to pass flow and clots and all that-- Get up after sitting for a while? Dammit. Laugh too hard? Dammit. Sneeze? Oh heeeellll.
I hate my period. You hate your period. Nobody, anywhere enjoys or appreciates their periods or anyone else's.
BUT. Oh oh oh, my goodness. I have new way of looking at menstruation and it is really really neat.
So WReligions class and indigenous religions and taboos and menstruation. Prof's like 'ok, why does an indigenous culture and/or a primal sort of mindset freak out about a woman's menstruation?'
BECAUSE HOLY SHIT YOU ARE BLEEDING AND Y
OU'RE NOT DYING.
Ok, so you get a paper cut and you're bleeding. THAT'S BAD. OH NO, Freddy Kreuger just ran up and slashed your throat open. EVEN WORSE. Blood is hella vital to living. You lose too much, you die. Not to mention, even a paper cut is a vulnerability to infections and all sorts of nasty things. Bleeding never means anything good.
EXCEPT FOR MENSTRUATION. Seriously, that shit is borderline magical. I know the science, but looking at it from a primal kind of mindset-- women are fucking powerful. They can
bleed, guys, bleed
and it's, like... natural. It just happens. And they do it once a month. Holy fucking shit, a woman bleeds anywhere from 10 to 30 mL a month and she doesn't die or get any horrible life-threatening infections. Yes, it hurts, BUT FUCK YOU'RE BLEEDING OF COURSE IT HU
RTS.
Fwah. Maybe this isn't news to any of you guys, but this is pretty incredible to me. Guys, I feel badass. I'm motherfucking bleeding and walking around and I am not dying or even wounded at all. This is a cool way to look at it.
I feel this requires an EXTREME ADVERT. Imma make one after I get home and maybe give it to the girls over at
tmi_chix
. And post it here, like you had a choice about looking at it :DDDD.
Guys, guys. Do you know how amazing WReligions is? It is so amazing.
What's the craziest thing you've done for love?
ok so I wanted to write an entry and this was the most interesting of the writers' blocks.
I don't think I've really done anything
all
that crazy for love. Or in general, really. Zoe, we need to get on some crazy shit
stat
.
Um. Let's date. At the Opera. In SCUBA gear. Or maybe the park. But SCUBA gear is required. And graffiti things. And wear wigs. And spend a whole week in complete silence to see if we forget to talk and/or invent some type on nonverbal communication. Let's... go everywhere in the whole world and pretend to be people from another time. Let's move somewhere and tell people that our names are Rosencrantz and Guildenstern. Let's have a really long and horrific existential crisis, while we're at it. That could be fun.
Let's be clowns for Great Justice. And gay activists. And activists who are gay. Let's.... be superheroes. And clean up trash all over the place with those pointy sticks and we could also fight crime with them. Let's deface some terrible public monument and make is so beautiful that they maybe leave it that way. Let's do street theatre. And make people's lives more surreal. And make a couch-cushion fort. A giant one. From, like, all the couches in the neighborhood, or something. Let's be those crazy ladies down the street who all the mothers are afraid of and the children adore and everyone secretly thinks they're witches and maybe they actually are. Let's make people wonder what gender we are and not come to any conclusions. Let's do erotic theatre.
Let's write all over our walls. And furniture. And in our books. And then give them away just to make people wonder who we were. Let's go somewhere so isolated that we can scream and scream and no one will hear us so we can shout all the secrets we've ever had. Let's make tunnels. Let's play house. Let's meet David Bowie. And have tea with him. Like, High Tea, like a fancy dress-up tea with china and we all have to talk with Russian accents and pretend to be old ladies. Maybe we should also do this with every one we ever meet, ever. Let's make really good films. And maybe some really bad ones, too. Let's see if we can lose our minds if we try hard enough.
This is really fun. --Everyone, what's something crazy you'd like to do for love? Or for any reason, really. :D


(
"Like leaves." "Like ashes." "Like leaves."
Collapse
)


Why
do you go and do things like that? Why must you make me think and laugh and cry and think and cry and make me love you AND THEN GO AND SAY THINGS LIKE
THIS
:
"One of Estragon's feet is blessed, and the other damned. The boot won't go on the foot that is damned, and it will go on the foot that is not..."

BEEECKEEEETTTTTTTT!!
(
why you do dat
Collapse
)
"You see, Major, Freud had a theory, that one's sexuality begins taking shape from birth, when the infant first responds to the touch of its mother. As a child grows up, it finds itself responding to all manner of stimuli—at home, at school, and at church. A simple bath becomes a delicious self-caress of the body with a slick bar of soap. The strong legs of a fellow schoolmate as he climbs a ladder to reach for a book sends shivers down one's spine. And in church—you are Catholic, are you not, Major?"
By now Dieter's heart was pounding, and all he could do was nod in reply.
Landa smiled. "I thought so. Well, then you are as familiar as I with that image of the nearly naked Christ, slender and pale as porcelain, delicate arms outstretched, graceful feet stacked neatly for the penetration of the nail, clearly suffering—and yet in radiant ecstasy."
Landa leaned forward in his chair then, his razor-sharp eyes fixed on Dieter in an appraising gaze so clear and so frank it unnerved the major.
"I have my own Freudian theory," he continued, "about Catholic boys, as you and I once were. There are, you see, three ways for a young boy to respond to that image of suffering on the cross. The one that is most talked about is of course the one that finds both humility and inspiration in the profound divinity symbolized by that act of supreme self-sacrifice.
"But then there are the two others, the ones never spoken of, both a combination of exhilaration and desire. There is the one that wishes he had inflicted the wounds on that deceptively soft-looking white skin, that he had tortured that gaunt body, that he had been the source of such exquisite suffering.
"That boy, of course, is me."
Landa paused for a moment to let those words sink in. His usually hazel eyes were now a blazing and brilliant emerald green and Dieter, transfixed, thought that he had never seen more beautiful eyes, a more beautiful face, a more beautiful man. He swallowed, and caught Landa's glimpse at the clear bob of his Adam's apple.
"Then there is the other," Landa continued. "The one who wishes it was he upon that cross, he whose flesh is peppered with wounds and punctures, he who has suffered the thrilling agony of unspeakable torture and humiliation, he who glories in such complete and utter submission."
Again Landa paused, giving the meaning of his next words even greater weight.
"And that boy, my dear Dieter, is you."
http://community.livejournal.com/operation_kino/84362.html#cutid1
Hans Landa sums up my entire existence while being an attractive fucking badass, that motherfucker. Assisting him is the delightful Major Dieter 'Hellstrom' :DDDD


German Lab 1(Online); Elementary German I............ Tuesday 06:00PM - 08:40PM, Van Every Hall, Room 305
Theatre Appr/History............ Monday, Wednesday, Friday 10:30AM - 11:20AM, Overcash Center, Room 256
Art History............Thursday 02:00PM - 03:15PM, Overcash Center, Room 302
World Religions (!!!!!OMGOMG YOU GUYS)............ Tuesday, Thursday 11:00AM - 12:15PM, Central High Building, Room 305

ALTERNATELY

My Class Schedule As Each Course Pertains to My Personal Interests:

German Lab 1(Online); Elementary German I............ I am taking this class almost entirely so I can talk dirty to my girlfriend in bed. In German. That's right. Bring on the ridicule. Also I'm RPing a German character-- or several, if In Bed counts. I want to get a better grasp of the thinger, you know, the logical thought process of a native German speaker, insofar as one can track that sort of thing linearly, or whatever, through language. Idk-- words right now.-- Bring on even more ridicule. ... Ok, ok, also German is neat and also close to English and Mozart operas, you guys, and Bach cantatas. and Anglo-y English language origins, etc etc. Yes, I am without a doubt entirely ridiculous, but some of this is actually scholarly ridiculousness.

Theatre Appr/History............ RaGAD and Godot are some of my favorite works ever, ever, and also Shakespeare and his ilk. I want to learn more about theatre setup and things and yes, plus any history of anything ever is the actual best. ...And I love ~theatre~ and ~acting~ and ~dramatic whatever,~ but actual acting classes are pretty much always brimming with pretentiousness and non-talent, aka the sort of person who is loud and dramatic socially, therefore believes they have a career in acting/the sort of person who is convinced they are going to Make It Big and become Famous Movie Stars etc, which is hideous and bad. As a result, the classes are way too easy and the least challenging ever. Guys, for actual, any class where I am the STAR PUPIL and BEST AT EVERYTHING and THE PHYSICAL MANIFESTATION OF DOING IT RIGHT is a slacker class in a big way. No, really. Anyway, I'm sure there are excellent acting classes out there, I've just not had any of them, so I'm wading around in the theory end to see if that's any better. Woo!

Art History............ Raven took this class last semester and said it was really great, and that the prof is excellent, so here I am! Me and art are largely Not Friends, namely because it's the sort of field where people think I am way more talented than I really am (See theatre/acting/That Ilk), and I'm not interested in pursuing it beyond my own personal projects, plus art, even professionally, is full of non-talent and pretentiousness, and the classes are generally even worse, and I'm not interested/invested/talented enough to get to the srs bidness higher level classes, so I've tried to avoid Art as a thing. But History. History of Art. That is basically the actual best. Because Humanity and Thought and Reflection of the Times in a big way, and other such exciting and interesting... generalisations that I've capitalised to suggest they have way more behind them that I'm just too lazy to elaborate upon, at least in this journal entry! Exciting! I am excited about this class, yes I am!

World Religions............ WUH GUYS I LOVE RELIGION. --Not just my own, of course, but also my own, and also Religion as a Thing-- it's maybe the best ever-- Religion is existential and human and thinky and psychology and culture and HISTORY 8D and all of my favorite things of all. Religious studies is something I could really see getting into as a Career Type of Thing. I want to learn and learn and learn and learn and learn about it and then TELL EVERYONE and make correlations and write things and I really just get excited and GUYS. I AM SO THRILLED ABOUT THIS CLASS. YOU GUYS WE HAVE TO WRITE A BIG FINAL PAPER AND HE WANTS US TO WRITE ABOUT THINGS THAT INTEREST US AS THEY CORRELATE TO RELIGION AND AND AND OH GOD SOMEBODY STOP ME FROM WRITING THIS PAPER BECAUSE I AM RIDICULOUS. --"THE RED THREADS OF RELIGION, CEREMONY AND SADOMASOCHISTIC SEXUAL PRACTICE; RECONCILIATION OF A LEATHERDYKE ALTARBOY." THIS IS ACTUALLY WHAT I ACTUALLY WANT TO WRITE AN ACTUAL PAPER ON SOMEBODY HELP I WILL NEVER TURN CAPSLOCK OFF IN MY BRAIN NOW.


Edit: I forgot to mention that IF ANY OF YOU JERKS COMMENT TO SAY THAT I AM GOOD AT THINGS I WILL PUNCH YOU IN YOUR NECK. SERIOUSLY, DO NOT DO THIS, I WILL BE LEGIT INSULTED THAT YOU THINK I WOULD BELITTLE MY ABILITIES TO GET YOUR SYMPATHY. I AM NOT FISHING FOR REASSURANCE I AM TALKING GODDAMN. I think I need a sticky disclaimer for my journal. I am so on that shit. :D!
I am excited to be back in school. It is cold as all hell outside-- by which I mean I have to wear a coat-- so hauling ass to the bus stop in the morning is a huge pain, plus, augh, the bus, plus any number of things I could (and probably will) complain about, but I am excited. Here is my schedule, because I can. ...and because I can't seem to remember it, so. Repetition is key!
how should I presume?:

excited
What (if any) books would you ban from a high school library? Are there certain subjects that you feel are inappropriate for teenagers regardless of literary merit?
You know, I'm going to go ahead and turn this one over to our good friend John Milton. John?
http://www.dartmouth.edu/~milton/reading_room/areopagitica/index.shtml
Tl;dr? Here's the cliffnotes: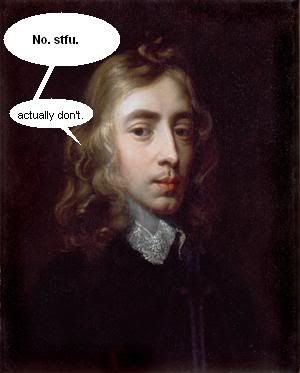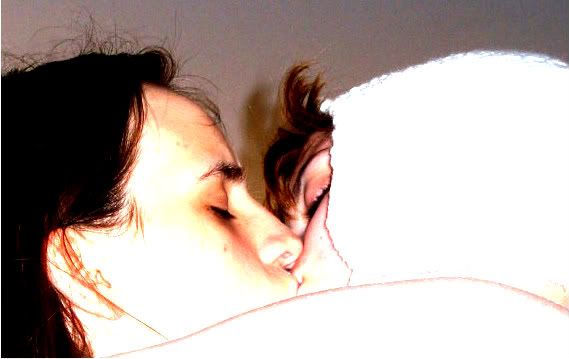 (Like gold to aery thinness beat.)































Halloween pics, etc later. ._.

I miss you.

I should be sleeping, but instead, I wrote about my feelings for the shit I coughed up just now. Seriously.
(
Cut for your delicate sensibilities.
Collapse
)
Ahah. Yeah, I've been trying to write for weeks now, and this is what I come up with. goooo me.
DANCE, NELLY, DAAAANCE!!!
8DDDDD
Additionally,
EVERYONE IS SO PROUD OF HIS BONER. GO HOLLIS!